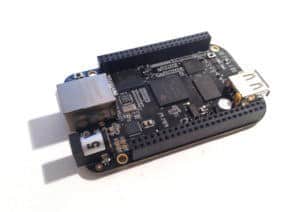 The BeagleBone is a mini computer, in the size of a credit card. Very similar to a Raspberry Pi.
You can connect a mouse, a keyboard and a display – and you'll have a fully functional computer.
But most people don't buy it to use as a normal computer…
…so, what is BeagleBone aside from this?
There's much more exciting things to make from it… Like:
Arcade games
Advanced robots
Your own coffee machine (like Elias did)
Handheld gaming devices
Home automation systems
3D printers
…and much more