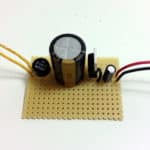 This power supply circuit is easy to build and cheap. And it requires only 5 components.
I have built many circuits in my life, but this is actually the first time I've built a power supply circuit from scratch.
The final project I wanted to build was a wall adapter with a USB socket to charge my iPhone. But first I wanted to start by creating a simple circuit that converts from the main power voltage, 220V or 110V, to 5V.
As I'm in Australia while writing this, and the voltage here is 220V, I built this with 220V in mind. But it's very easy to convert to 110V instead by switching one connection (or one component).