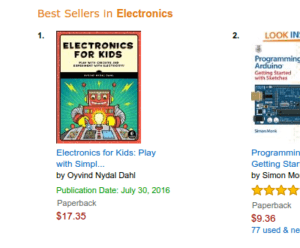 I got a pleasant surprise last week.
The Wall Street Journal wrote about my new book, Electronics For Kids:
And they called it one of three books every geeks should read this summer. Which of course made me very proud.

The book is packed full of fun electronics projects, like games, a motor, an a lemon-powered LED.
It's printing right now, but it should ship in about two weeks.
These last few days it has actually been the #1 best seller in Amazon's Electronics category.
…which sounds weird since it's not available yet, right?
But, you can pre-order it, so those numbers are based on the pre-orders.
It's available (with immediate access to the PDF-version) here:
https://www.nostarch.com/electronicsforkids
(Use the code E4KBUILDER for a 35% discount)
But if you live outside the US, you'll get better shipping options from Amazon:
http://amzn.to/292LAJ9
(Doesn't include the PDF-version though…)
Keep on Soldering!
Oyvind