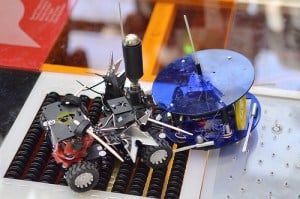 I don't have kids myself.
But I have a couple of nephews.
And I am also working on a pretty big project geared towards kids and electronics.
I think the topics of kids learning and electronics are very interesting.
So here's 3 articles I found interesting:
A fun alien project:
http://blog.arduino.cc/2015/05/18/manipulate-your-voice-with-mimic-monster/
Urge kids to be inventors, not users:
https://blog.adafruit.com/2015/05/19/the-github-for-kids-urges-them-to-be-inventors-not-users-makereducation/
New kind of school in Silicon Valley:
http://www.wired.com/2015/05/altschool/
In my opinion, I don't like to try and convince anyone that they should learn electronics. But I love showing the way for those who are interested.
My eBook "Getting Started With Electronics" could be a good starting point for a kid interested in learning electronics. Especially with an eager parent as a study-partner.
After going through the book, you will have built a music-generating device, a light-show circuit and much more. But you'll also learn how to figure out what components you need for a circuit.
Get it here:
https://www.build-electronic-circuits.com/products/ebook-2nd-edition
Keep on Soldering!
Oyvind