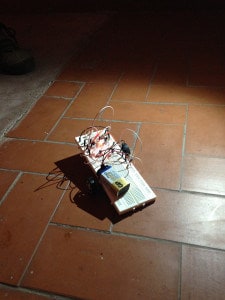 Why should you build a robot, you ask?
You'll learn basic electronics like transistors, resistors and sensors
You can impress your kids, friends, wife/husband or neighbours
You can use it as a first step to get into robotics
You can make it into a cool school project
It's extremely fun and gratifying
I'm telling you this because I'm about to launch my new online course "How To Build Your First Robot".
And I want to make sure you know what building a robot is about. This way you can make an informed decision about joining or not, when the time is ready.
(The time is ready in the beginning of next week.)
Here's a couple of home videos of light following robots that people have built:
https://www.youtube.com/watch?v=RS9YC7GIyt8
https://www.youtube.com/watch?v=jwrVHF3-TMw

Keep on Soldering!
Oyvind