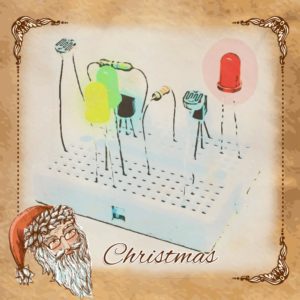 Christmas will be different this year.
I'm in Colombia with my wife.
Together with a local group, we're building an Arduino robot.
It's warm.
And there's no snow.
Although I miss the Norwegian Christmas with lots of snow, I'm enjoying the Colombian Christmas very much.
But sometimes I like to think back on good memories from my Norway Christmases.
Like the time I got components for Christmas.
I still remember the excitement.
Under the Christmas tree at my parents' house, I found three boxes with my name on them.
As I opened them, I got more and more excited.
One contained resistors.
One contained ceramic capacitors.
And one contained electrolytic capacitors.
I absolutely loved it!
But, I guess a box of resistors and capacitors isn't everyone's cup of tea…
So what else can you give to an electronics interested son, daughter, parent or grandparent for Christmas?
How about a gift card to learn electronics?
What about a starter's component kit?
I've created a Christmas bundle that I think every electronics-interested kid, adult or grandparent would love:
It includes:
* one year of electronics courses online at Ohmify
* two ebooks to build and learn electronics
* a beginner's component kit sent to his/her house
To give the gift of learning, choose the "Give As Gift" option below:
https://ohmify.com/xmas-bundle/
Keep On Soldering!
Oyvind @ build-electronic-circuits.com