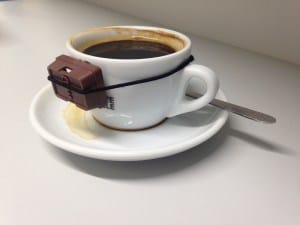 Mmmmm, I love the smell of coffee.
My Colombia coffee is next to me.
And I'm ready to start the day.
But many mornings, I like to read about what's going on in the world.
And when I say 'the world', I'm talking about the electronics world of course ;)

I came across this cool way of creating speakers for your smart phone, that doesn't require external power:
http://makezine.com/projects/design-print-passive-speaker-phone/
But then I saw something that really caught my attention.
I have you hear about Google's project Ara? Well, that looks cool but they keep delaying it.
So a Chinese company called Seeed Studio took the matters in their own hand, and just launched a kickstarter campaign to offer a modular phone:
http://www.kickstarter.com/projects/seeed/rephone-kit-worlds-first-open-source-and-modular-p

Their phone will probably be more geared towards electronics people like you, and I presume it will need a bit of programming and assembly to get working.
But that's just fun!
And if you're not confident about your building-electronics-skills, then check out my ebook with step by step instructions on how to get started building electronics:
https://www.build-electronic-circuits.com/products/ebook-2nd-edition
Keep on Soldering!
Oyvind
PS! Things are happening fast since I arrived in Colombia. I've already joined a Colombian project together with Intel. I'll tell you more about that, and the tutorials that will come from it in future emails.