This winter I went to Colombia.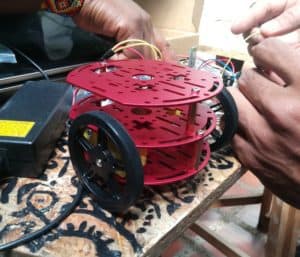 I wanted to meet electronics people, build cool projects, learn from others and make videos.
Today I published the second and final video from the trip.
Find the two parts here:
Part I: https://youtu.be/hYhQrczSRoU
Part II: https://youtu.be/qvRG4nxt0eU
Do you want to build a robot like this?
Then leave a comment on the video.
If there's a lot of interest in it, I'll write a tutorial.
But here's the overview:
-Arduino as the "brain"
-A simple robot platform with two motors
-An H-bridge to control the motors from the Arduino
-An ultrasonic sensor to make the robot "see"
Then I wrote a simple program that makes the robot spin until it sees an object. Then it stops spinning and goes straight ahead.
The idea was to make a sumo robot.
It's a robot with the sole purpose of pushing another robot out of a ring.
Kinda like sumo wrestling.
This is a fun project to build along with friends.
Each builds their own robot.
And each put their own magic touch on the code that controls the robot.
Then you compete!
At Ohmify you'll learn Arduino coding, robot building, and much more. Learn more here:
Keep On Soldering!
Oyvind @ build-electronic-circuits.com