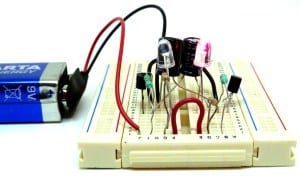 It's been some busy weeks for me.
Launching my online course took a lot of work – but I'm really excited to instruct the students over the next 8 weeks.
Today, I will answer some random questions I found in my inbox right now:
QUESTION: Can a rectifier be used instead of a battery?
OYVIND: A rectifier is a circuit that turns AC into DC. So if you have an AC source, you can use a rectifier to turn it into DC. But you would also need something to regulate the voltage into the level you need.
QUESTION: What is a shunt capacitor?
OYVIND: Hmmm… I have no idea!
[A couple of minutes later, after some Googling]
Ok, it seems like it is a capacitor that is placed in such a way that it can allow current to pass around a point in a circuit. Like the capacitor in a low-pass filter. Not really something you need to know as a beginner.
That was two very technical/specific questions today.
In my eBook «Getting Started With Electronics» – I like to keep things simple. So no shunt capacitors or rectifiers. But some blinking lights, alarm circuits and other simple circuits =)
More info:
https://www.build-electronic-circuits.com/products/ebook-2nd-edition/
Keep on Soldering!
Oyvind