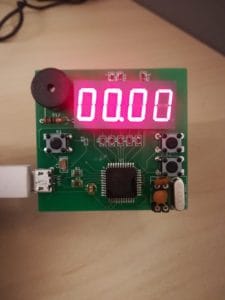 Yesterday I finished up the first version of the code.
It's an alarm clock.
At least that was the original idea.
But now that it's here, my friends at the office are finding lots of uses for it…

Like a thermometer and timer for a PCB-etching device.
Here's an image of it:
https://www.build-electronic-circuits.com/wp-content/uploads/2018/01/alarm-clock-tutorial-device1.jpg
Like with most first prototypes, there were some errors.
Mostly due to me not taking the time to double-check things…
…but it was very educational!
Tomorrow I'm doing a PCB design course at Bitraf in Oslo, where we'll go through how to design it.
Then in a week, we'll follow up on how to solder it.
It's fully booked, but we'll do more of it in the future.
And all the Ohmify-students will get access to an online version soon.
Learn more about Ohmify here:
https://ohmify.com/join/
Keep On Soldering!
Oyvind @ build-electronic-circuits.com