When I was a kid, I had the habit of trying to figure out what my parents had got me for Christmas.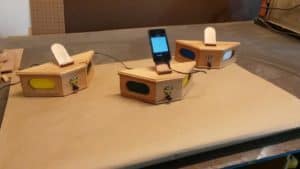 So I searched in closets and the basement.
One time, I found a table tennis racket.
And I thought… "Woah! I'm going to get a table tennis table??"
I couldn't find any table though, so I concluded that my dad must be secretly planning to make the table himself.
And I remember thinking that it would be so cool to receive a homebuilt table for table tennis!
But…
Christmas came and I didn't find any table under the tree.
Not sure what to think, I confessed to my parents that I had peeked and found the racket. And I wondered what had happened?
Turns my dad used to be on the table tennis team of his old company. And I had found my dad's old table tennis racket.
We never got table tennis at home.
But we didn't really have space for one anyway. Instead, my dad started taking me and my brothers to a table tennis place where we could play.
What does that have to do with electronics?
I remember being very excited about the thought of a homemade table. And I think a lot of people feel the same. It's really special when you receive something that someone has built specifically for you.
As an electronics person, have you ever considered creating Christmas gifts yourself?
How about building a remote-controlled car?
Or an arcade game based on Raspberry Pi?
Or a music playing box with a dancing ballerina?
Or a portable speaker to play music from your phone?
One of my readers, Robert, did just that a couple of Christmases ago. And here's the result:
https://www.build-electronic-circuits.com/wp-content/uploads/2017/11/roberts-speakers.jpg
Those are so cool!
If you're starting from scratch, with no prior experience – it might be a bit late to learn electronics and build a cool present for this Christmas.
But start now, and you'll be in a very good place to do that for next Christmas.
If you're not sure where to start, Ohmify might be for you. Ohmify contains over 20 courses (and counting), plus a community forum where you can get help with your project (or any other topic).
Check out the included courses here:
https://ohmify.com/library/
Keep On Soldering!
Oyvind @ build-electronic-circuits.com
PS! If you join before the end of the year, you'll get six eBooks about electronics as a bonus.