If yes, keep this in mind: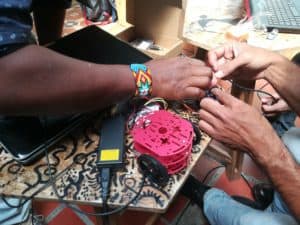 Building a circuit and understanding a circuit are two different skills.
And you can learn one without the other.
As a kid, my dad taught me how the relay works. That helped me understand a simple circuit to blink a light. And we built it together.
For a long time, I continued building circuits without understanding them.
I had a lot of fun.
And I impressed a lot of friends =)
It's totally okay to build something without understanding it!
Later on, I wanted to understand more.
So I focused on learning theory.
That helped me understand why some of my circuits didn't work – and helped me become even better at building circuits.
So what should you start with?
Building or understanding?
I recommend you start with what you're most keen on doing.
If you're keen on building a circuit – build it!
If you're keen on understanding a circuit – study it!
If you want to do both – how about one week of studying theory, then one week of building something based on that theory?
I've structured the classes in Ohmify around both building and learning. And you can pick and choose which classes you'd like to do in which order.
But you can also get personal recommendations if you're not sure.
If you're ready to join – or at least learn more about Ohmify – then click the link below:
Keep On Soldering!
Oyvind @ build-electronic-circuits.com