I've had a great time in Colombia.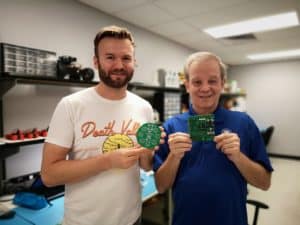 Meeting family and friends.
And building electronics.
I'll create and publish part 2 of the video blog as soon as possible.
(You can find part 1 here: https://youtu.be/hYhQrczSRoU)

But it was time to move on, so I'm now in Miami.
With its beautiful beaches, cool art deco architecture, and energetic attitude – it was the perfect next stop on my journey.
This weekend I met up with one of my readers, now also my friend, Jose.
He invited me to join him in building an electronic nose.
The e-nose can, for example, detect counterfeit olive oils.
Or find problems in a beer brewing process.
And other smell-related things.
It was a fun day with a lot of soldering.
Thanks, Jose!
And it got me thinking how important it is to be able to solder surface mount components.
These components are small.
And most modern components are surface mount.
It might sound hard – but it's actually easy.
The professional way is using a soldering oven.
But there are many DIY ways, like using a toaster oven.
Or a hot-air gun.
Or a soldering iron.
In Ohmify you'll learn how to solder with a soldering iron.
But I'm there to help you if you're curious about the other options too.
Learn more about what Ohmify is and how it can help you here:
Keep On Soldering!
Oyvind @ build-electronic-circuits.com