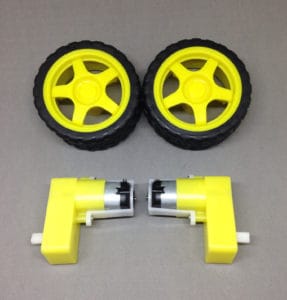 A couple of years ago, I bought a robot vacuum cleaner.
It would run around our office and clean the floor.
It was not very efficient – but it was really cool!
Robots are just cool. And I have noticed that a lot of people want to build one. But how do you do that?
First of all, you have to figure out what type of robot you want to make.
Should it be a robot that flies? Or a robot that walks? Or a robot on wheels? Or maybe a robot arm?
Let's say you want to make a robot on wheels. Like a little robot car.
The next thing you need to figure out is how the car should "see" the world. If you want it to avoid crashing with things, you need some kind of sensor that can measure distance to objects.
You could use an ultrasonic sensor.
Now that you know how you want it, you can start thinking about designing the circuit.
You need a microcontroller to be the "brain" of the robot. It must read measurements from the sensor and control the motors for the wheels accordingly, so that it avoids crashing into things.
So, if you know nothing of electronics from before, there are three things you need to figure out:
How to get started with microcontrollers
How to control a motor with a microcontroller
How to read data from an ultrasonic sensor with a microcontroller
Everything gets easier when you break it down. And it becomes more obvious what you actually need to do.
In my eBook «Getting Started With Electronics» – I have broken down the vague wish of wanting to learn electronics, into specific steps to take to actually start building cool things like a screaming siren circuit.
Click here to learn more about the eBook >>
Keep On Soldering!
Oyvind @ build-electronic-circuits.com