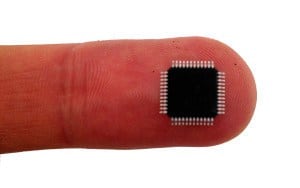 I was soldering the circuit for the last part of the microcontroller tutorial. And I burned myself on the soldering iron. Ouch!
But, I lived to tell the tale. Hopefully that taught me the lesson of being more careful, so that it will go another few months before I do it again.
I realized something when I was about to solder this circuit…
The microcontroller chip looked so little. And even though I have soldered this type of chip before – I started doubting if I could do it.
You might think I have all this super advanced equipment – but actually my equipment is very basic. Sometimes I have access to more advanced equipment, but usually I stick to my simple soldering iron – which is probably 40 years old or something.
(One of the reasons for this is because I like to explore what is possible for a hobbyist. And if I where using super advanced tools, I wouldn't really know the struggles of the hobbyist. And also – those advanced tools can be pricey!)
I didn't even have a smaller tip for my iron – though that would have made things much easier.
But anyway, as I was about to solder the chip, I started doubting if I could really do it. The pins looked really small.
I decided to give it a go anyway. And I made it! It wasn't that hard.
It didn't look that nice – but it worked.
So I guess the moral of the story is, like Nike says: Just Do It!
Give yourself time. Don't rush it. And you will also be able to solder really tiny components using only a basic soldering iron.
You can learn more on the basics of soldering in my eBook «Getting Started With Electronics»:
https://www.build-electronic-circuits.com/products/ebook-2nd-edition/
Keep on Soldering!
Oyvind