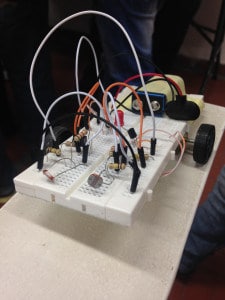 Do you have a non-profit project that you'd like to build? For example for a competition or a school project?
Now you can get free printed circuit boards for your project.
A printed circuit board, or a PCB, is a board specifically designed for your project. And it makes it much easier to create projects that need a lot of connections.
To make a PCB you first need to create the schematics for your circuit. Then draw the connections you need in a PCB design software such as Eagle, KiCAD or Fritzing.
This drawing is then sent to a PCB manufacturer that will produce the final board for you. Then all you have to do is to solder the parts onto your board.