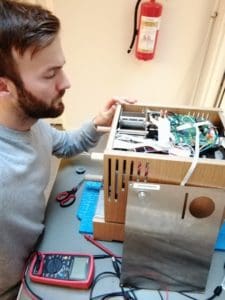 I am a coffee lover.
And these days, I am surrounded by the smell of coffee almost every day.
But no – I am not working from cafes these days (even though I love that too).
The thing is that I am hired to help with the electronics of the Norwegian coffee roaster Roest.
Since the electronics design is finished, I have been working a lot with firmware coding.
It's something I really love doing.
And it's so cool when I can write improvements to the code, then seconds later upload it to the machine, roast some coffee, and see the results.
The ability to write commands to a machine then instantly see the machine do what I told it to do, that's one of those amazing things here in life.
It's something really special.
And I think that since you are reading this, you understand what I am talking about.
Even if you are not into coding, but prefer soldering components to make some kind of gadget work – you probably know the feeling.
The whole reason for having this newsletter is to help you build what you want in electronics.
So I've put together a course bundle that will help you learn to code firmware for the Arduino.
Why the Arduino?
It makes it really easy to get started with microcontrollers.
And there are currently 9 Arduino courses in the Ohmify library. If you want to get started, I highly recommend the course Getting Started With Arduino.
NOTE: If you are an Ohmify-subscriber, you already have access to these courses. You'll find them under "Trainings Library" in the top menu.
Keep On Soldering!
Oyvind @ build-electronic-circuits.com