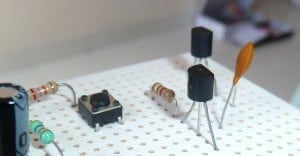 When I was in the basement of the house I grew up in and played around with electronics, the transistor was mysterious to me.
In the pictures of the circuits I wanted to build – I saw these weird names like BC546 or 2N2222.
And when a schematic told me to use the BC546, I used that one. I didn't dare to try anything else.
It took me a while to understand how to pick a transistor. I'm still no master, but I know a few essential things that help me in deciding.

Some of the things that make transistors different are:
-how much current can run through them
-how fast they can switch on and off
Most common transistors can handle up to at least 100 mA of current through it. So if you need to control a current of 500 mA, you need to check if the transistor can handle that much.
If you need a transistor that can switch on and off really fast – like tens of thousands of times per second – then you also need to make sure your transistor can handle that.
But how do you know if a specific transistor have these things?
You check the datasheet.
…but more on the datasheet tomorrow.
In many, many cases – all you need is a common purpose transistor. Either NPN or PNP. But you can't mix up these two. If the circuit diagram says NPN, then you need an NPN.
You can learn about how the transistor works in my eBook «Getting Started With Electronics». More info here:
Now, go and get yourself a transistor!
Keep on Soldering!
Oyvind