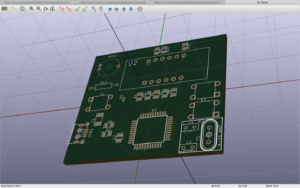 I just finished the design of a "smart" rope for big ships.
This rope can let the captain know how much tension it has at any given moment.
The "brain" of the circuit is a Bluetooth 5 chip that hasn't even been released yet
It comes in a "BGA-package".
It's a component that does not have any pins…

It only has these balls of solder under it – and they are really close to each other.
A nightmare to solder by hand!
And it made me think about self-confidence when building electronics.
It might sound strange…
…but your self-confidence is very important when building circuits.
About ten years ago, I tried to build a different Bluetooth circuit. Also using a BGA-chip.
I did not have the confidence I could do it.
And when the chip did not work at first try – I quickly gave up, and the project failed.
My confidence around BGA-components was at rock bottom, and I avoided BGA-components like the plague after.
Recently though, I've been doing projects where I have gradually introduced BGA-components.
The first time, I had one mini-component be BGA, and I made sure it wasn't crucial for the board if I made it work or not.
Turned out it worked, and my confidence grew.
I used some more of them.
Had some failures and some successes.
Learned a lot and my confidence grew even more.
Now, just before writing this email, I've finished up the order for a Bluetooth 5 circuit.
And yes it's a BGA-component, but now I feel confident I have the correct tools and knowledge to make it work.
Building circuits increases your understanding and your confidence in that you can do it.
If you've built a circuit with 4 components – how hard can it be to build one with 7 components?
When you've built one with 7 components – how hard can it be to build one with 10 components?
When you've built one with 10 components – how hard can it be to build one with 15 components?
…
That's why it's important to build confidence.
With more confidence comes more cool/awesome/mind-blowing projects.
If you don't feel confident in your ability to build circuits yet, I highly recommend you build the nine projects in my eBook 9 Circuits.
You start out with a really simple circuit, then gradually build more and more advanced circuits.
Learn more here:
https://ohmify.com/get9circuits/
Keep On Soldering!
Oyvind @ build-electronic-circuits.com