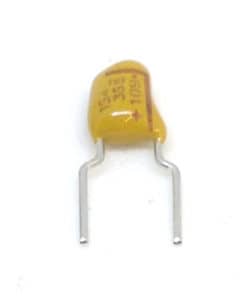 This morning I wanted to test something.
I recently heard a claim.
The claim was that you should not connect a tantalum capacitor the wrong way because it will burst into flames.
I thought to myself: "It can't be that bad…"
And I decided to test.
So I set up a test circuit in the kitchen this morning, while my wife was still sleeping.
And I set up my camera to capture the moment.
The result?
…nothing.
I connected my tantalum capacitor with a 9V battery the wrong way, but nothing happened.
I did some research and found plenty of examples of these capacitors blowing up.
So maybe it's just some types or specific values that blow up.
I don't know.
But at least Scott from circuitbasics.com made it happen:

So it's possible.
And the lesson is: Don't connect the tantalum capacitor the wrong way.
If you need a last-minute gift (without any tantalum capacitors) for someone who's an aspiring inventor, then check out the Christmas Bundle Gift Card:
https://ohmify.com/xmas-bundle/
Keep On Soldering!
Oyvind @ build-electronic-circuits.com