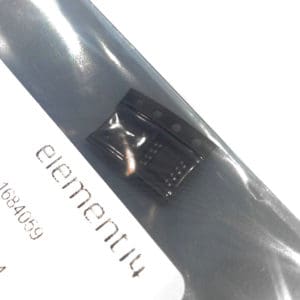 Crash!
That's what I did with my new drone, the first day I got it. And it broke :(
I'm determined to fix it, and a couple of weeks ago I found the problem:
An integrated circuit with MOSFET transistors had broken down.
I ordered a new chip online for $1, but with a frustrating $30 shipping fee.

But, anyway. Today I received it!
Now I just need to replace the old chip with the new chip.
I recently wrote an article about the soldering tools I use, and what tools I recommend for beginners:
https://www.build-electronic-circuits.com/soldering-tools
But when I received the component I need to fix my drone today, I realized something: The component is a surface mount component. Those types of components are much smaller than through-hole components.
And, smaller = harder to solder.
In the article above I write that when you're starting out any soldering iron will do.
Since I'm traveling a lot, I often use a $9 soldering iron, and it works fine. But when you need to solder small components like I need to now, having a soldering iron with a thinner tip will make the job ten times easier.
Often, the $9 irons have a medium-sized tip that makes it suitable for medium size soldering joints.
If you want to get a soldering iron with some more flexibility, get a soldering iron with a replaceable tip.
A while back I wrote about what the best soldering iron is:
https://www.build-electronic-circuits.com/best-soldering-iron/
In that article you can learn what you need to think about when choosing a soldering iron.
And you can find a couple of recommendations for soldering irons that allow you to replace the tip.
Now it's back to the lab again for me.
Hopefully, I will be flying my drone again this weekend.
Keep on Soldering!
Oyvind
PS! Any new sign-ups to Ohmify (my electronics builder's club) from today up until end of next week will get free kits like promised. But because of the Chinese New Year they won't be sent until after the 5th of February. But I'll send it with DHL, so it should arrive quickly after. Here's the sign-up details: