I just brewed myself a cup of coffee.
It's morning, and I'm ready to take on a significant confusion. One that many beginners in electronics have.
Have a look at the following circuit: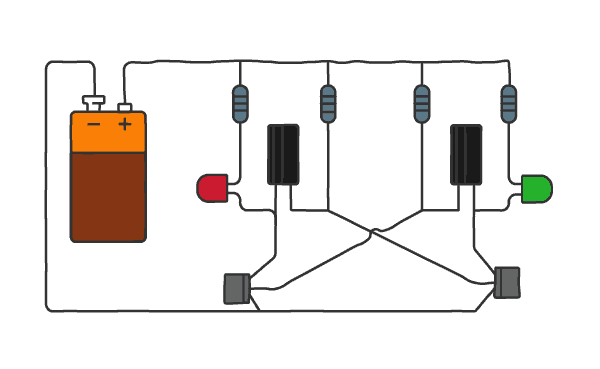 The first instinct of many (including me many years ago) when trying to understand it is:
"Ok, I see that the current first goes through that resistor. Then it goes through this LED, and then the transistor. I know that a resistor reduces current and that an LED lights up. So if I can only figure out what the transistor does to the current, I'll understand this."
Then I receive the email with the question:
"What does a transistor do to the current?"
Unfortunately, that's not the way to understand circuits.
The reason is simple:
The current doesn't start at the beginning of the circuit.
Read that again.
Current is the movement of charge through a point.
Charge comes in many forms, but the most commonly known is electrons.
When there is no current flowing in the circuit, it doesn't mean that the charged particles aren't there.
It just means they aren't moving.
But they are everywhere in your circuit.
And the moment you apply a voltage, the particles start moving…
…not just at the beginning, but everywhere in the circuit.
Everywhere where you have a path from a higher to a lower voltage.
So the question is NOT "what happens to the current in that component?"
but:
"What voltages and currents do I have – and what does this mean for my circuit?"
Often the answer is something like:
"My LED lights up."
"My transistor turns on."
"My capacitor will start charging."
For the simplest circuits, that's all. Nothing more happens.
But for bigger circuits, you gotta keep asking that question. Ex:
"Ok, after my LED lights up/transistor turns on/capacitor charges – what voltages and currents do I have? And what does this mean for my circuit?"
Often you can isolate parts of your circuit. That makes things easier.
The circuit at the start of this email isn't an easy one to understand.
Here's an example of analyzing it:
https://www.build-electronic-circuits.com/astable-multivibrator/
No worries if you read the article and feel totally lost.
You need to start with simpler circuits.
Become comfortable finding voltages and currents.
And ask yourself:
"What happens when I have these currents and voltages?"
That's what I teach at Ohmify. Learn how to become a student here:
https://ohmify.com/join/
Keep On Soldering!
Oyvind @ build-electronic-circuits.com