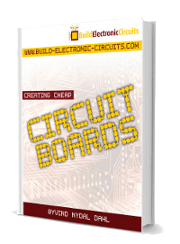 Learn how you can design and create your own circuit boards.
In this eBook I'll show you how you can get your boards manufactured professionally for only $1 per board. This is one of the most possibility-opening skills in electronics. Learn this skill, and you'll be ready to build whatever you want.
Click the button below to download the eBook Creating Cheap Circuit Boards.