I like to tackle this one now and then.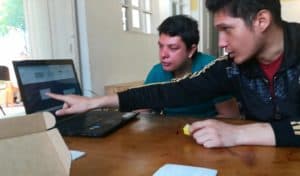 It's a question that regularly pops up in my email.
It usually goes something like this:
"How do I choose components for my circuit?"
Sometimes a bit more specific, like:
"How do I choose a resistor value for my circuit?"
When I ask what circuit they are trying to build – I usually get some version of:
"I don't have a specific circuit in mind, but in general – how do you choose components and values?"
I understand what the person is trying to do.
He/she is trying to design circuits. And to create a circuit, you need to choose components, right?
So how?
Unfortunately, you won't find a good answer to that question.
It's like wanting to learn to cook, then asking a chef:
"How do you choose which ingredients and how much to use?"
For a specific dish, like onion soup, it's possible to answer that.
But to answer that in a good way that will help you cook all types of food – not a chance.
You learn to cook by following other people's recipes.
And after making a lot of dishes, you'll start to get a good understanding of what ingredients work well together.
Reading up on some basic cooking theory helps too.
And so it is with electronics:
You learn electronics by following a lot of circuit diagrams made by other people.
Then add to that by reading up on some basic electronics theory.
Little by little, you'll build your understanding of what components go together to make different functions.
And how to combine these to create new functions.
That's the goal of Ohmify:
Have you build a lot of circuits. Read up on the basics. And grow your understanding.
Click on the link below for more info:
Keep On Soldering!
Oyvind @ build-electronic-circuits.com