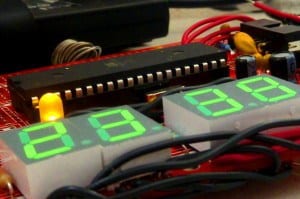 Hans is a 35-year-old guy who loves to learn about how things work. He has no previous experience with electronics, but now he wants to learn.
He learns about the transistor, the resistor, and the capacitor. And he feels he understands them, at least at a basic level.
But when he thinks about his dream project – an RFID-activated door for his cat – he has no idea how to do it. He figures he has to understand these components even better before he can move on.
So he keeps reading about them.
But still, he can't seem to see the connection from these simple devices to his dream project.
"There must be something I'm missing," he thinks to himself.
And he refuses to move on to the next topic until he fully understands the connection.
This is a very typical situation.
But here's the problem:
You won't learn to make pizza simply by understanding cheese really well!
If you want to learn to make pizza, you need to study how to make pizza! You need to learn what the basic ingredients are, and how you combine them into a pizza.
If you find cheese really interesting, by all means, study cheese. But don't forget to study pizza if that's your goal.
Tomorrow, I will launch my newest online training: Practical Electronics For Beginners (PEFB)
PEFB is an 8-week course where you learn to build your own inventions with electronics.
The course includes the following:
Week 1: Basic Electronics
Week 2: Circuit-Building Boot Camp
Week 3: Flashing Lights And Making Sound
Week 4: Practical Skills In Electronics
Week 5: Designing Your Own Circuit Boards
Week 6: Designing a Project From Scratch
Week 7-8: Build Your Own Project
Enrollment opens tomorrow and will be open until Sunday.
See the promo video here:
https://youtu.be/lFvftsAbpZE
Tomorrow I'll send out an email on how to enroll.
Keep On Soldering!
Oyvind @ build-electronic-circuits.com