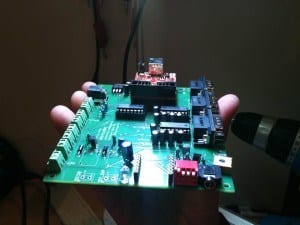 Build it!
The whole reason I started build-electronic-circuits.com was to inspire people to build stuff.
I went through a 5-year-long University study where I didn't really build a lot. I built things on the side as a hobby – but not much in the University courses.
And it made me a bit frustrated, since I really love building things.
So I started my blog to inspire and enable more people to build fun/cool/interesting/awesome/amazing projects. And that's why I usually focus on the practical stuff when I write.
Some of the people I studied with have never built a circuit, except for the few ones they did at the University.
…and now they are working with something non-electronics related.
It's nothing wrong with doing something else if electronics is not for you. But if you really love to build things with electronics, then you gotta build things with electronics.
In Berlin, I met a guy with a degree in social science. He learned electronics by building different things over the summer. And now he works with building really cool prototypes, like a hand-gesture recognition device that controls lighting.
All because he started building stuff for fun.
If you don't want to build things, but are more happy living your life and reading about other people who makes cool projects – then that's fine. It's your choice.
But if you want to be the guy (or girl) that builds the type of projects that just blows everyone's mind, then it's time to start building.
Not everyone knows exactly how to move forward with this.
This is why I've created the eBook «Getting Started With Electronics»:
https://www.build-electronic-circuits.com/products/getting-started-with-electronics

…and the video training «Building Advanced Hobby Circuits»:
https://www.build-electronic-circuits.com/products/building-advanced-hobby-circuits/

Keep on Soldering!
Oyvind