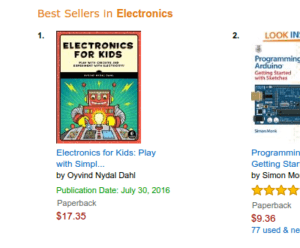 Finally, after more than a year of work, my newest book Electronics For Kids is in print.
See where it's available: https://www.build-electronic-circuits.com/electronics-for-kids/
So far, it has been well received.

The Wall Street Journal declared it as 1 of 3 books every geek should read this summer.
And today, I noticed that Geekdad has reviewed it: https://geekdad.com/2016/07/electronics-for-kids/
He's decided to use it in a summer camp he is running. That's pretty cool to hear!
Here's my favorite paragraph from the review:
"There's just the right mix of reading and hands-on projects that I'm confident the kids won't get bored.
Even better, the projects won't insult their intelligence… they feature real components, a real breadboard, and actual schematics. "
Keep On Soldering!
Oyvind
PS! Last week I wrote about the BeagleBone. I forgot to write what it is. So I wrote this article: https://www.build-electronic-circuits.com/beaglebone/