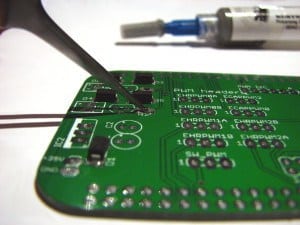 Imagine having a rubber duck on your desk.
A nice and yellow rubber duck. Like the one you would have in a bathtub.
Then imagine you are stuck on a problem with your circuit. It just doesn't work – and you have no idea why.
There are no one around to ask.
Except your rubber duck.
So, you start explaining the problem to your rubber duck.
You tell the duck what you have tried and what happened. You tell it what you think might be the problem. You tell it what you think is the best way to figure out the problem. You just keep talking to the duck about your problem.
Then suddenly – an idea pops into your head!
Could this be the solution?
You try it out – and it works! Yeah!
This might sound like a very silly thing to do. But actually this method works. And many people use it.
When you start talking out loud about your problem, very often a solution, or at least a new idea, pops into your head.
It doesn't have to be a rubber duck. It could also be a person that doesn't have the slightest clue about electronics. It could be your cat.
You might look stupid if someone sees you talk to a rubber duck – but it actually works! Try it the next time you are stuck =)
It also helps to have the basics in place. You can learn the basics from my eBook «Getting Started With Electronics»:
https://www.build-electronic-circuits.com/products/ebook-2nd-edition/
Keep on Soldering!
Oyvind