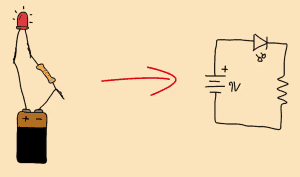 [Question]: I have a 3A power supply, will it break my 500mA circuit?
No. A 3A power supply will not force 3A into your circuit. A 3A power supply will supply up to 3A of current. It's your circuit that decides how much of that current it will actually use.
(EDIT: Note that a power supply is not the same as a battery charger. Connecting a power supply with too much current directly to a battery could damage it)
[Question]: My device says 5V (DC) 1A. What power supply do I need?
You need a power supply that gives 5V DC and has a maximum current of 1A or more.

[Question]: My circuit needs 9V, can I use my 12V supply?
No. If your circuit needs 9V and you connect it to 12V, it's a good chance it will break.
Learn the basics of choosing a power supply here:
https://www.build-electronic-circuits.com/how-to-choose-a-power-supply/
Keep On Soldering!
Oyvind
PS! I'm working on some new things now. And I've finally figured out a way to offer component kits with my products. Be on the lookout for a new book+kit in the near future.
PPS! Have you checked out Ohmify yet? Learn more here:
https://ohmify.com/join