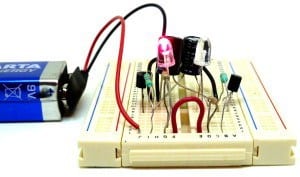 A circuit that many see early on is this one:
The astable multivibrator.
It's not an inviting name, but definitely a fun circuit to build!
The astable multivibrator is a classic circuit for flashing two LEDs.
Or it can create a tone to play on a speaker.
Here's the circuit in action:
https://youtu.be/KpWKjYqvRfE
I had so much trouble understanding this circuit when starting out.
And it frustrated me because I was thinking it was a simple and easy-to-understand circuit.
But the truth is that you need to have a good understanding of the basics of electronics before you will be able to understand it.
This is a hard circuit to explain because there are many things to think about at the same time.
But I did my best, and here's the result:
https://www.build-electronic-circuits.com/astable-multivibrator/
Keep On Soldering!
Oyvind @ build-electronic-circuits.com