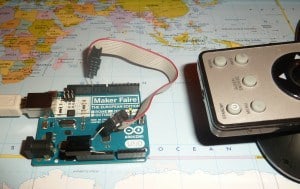 Arduino is fun!
But what is it?
Arduino is a small board with a microcontroller on it. It's kind of like a small computer.
You can connect different things to it – like a small speaker – and create a program that plays a melody.
Or you can connect an IR-diode and make your own remote control.
The possibilities are endless.
But how to get started?
First, get an Arduino. There are many different models, but the most standard one to start with is the Arduino UNO. Make sure you also get a USB cable for it.
It's available from a lot of places, for example on Amazon:
http://amzn.to/171R4Ch
When you get your board, install the Arduino software and plug in your Arduino.
Now you are ready to create your first program.
The Arduino software comes with a lot of examples, that you can use to get started. I have also written a mini-ebook on how to get started with Arduino. With a steep learning curve :)
You'll learn some basic coding and how to do serial communication with a computer and other things like a WiFi module. It's available as a bonus for the «Curious Beginner» and «Dedicated Learner» packages here:
https://www.build-electronic-circuits.com/products/ebook-2nd-edition/

Keep on Soldering!
Oyvind