…discover the eBook that helps regular people get started with electronics in a simple and easy way even if you have no previous experience
If you're an electronics enthusiast struggling to get started actually building circuits, please know this: It is NOT because haven't got enough education…
…or because you don't have access to the most fancy equipment…
Nope, getting started with electronics is much simpler.
So here is the BIG question: Are you ready to start building circuits the simple way – without going through TONS of theory that you will probably forget and never use anyway?
Great =)
Introducing "Getting Started With Electronics"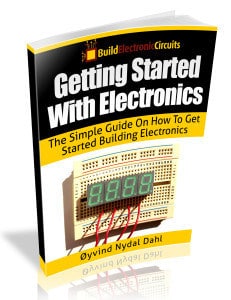 Learn How To Build Your First Circuit, No Matter How Little Knowledge You Have From Before
Simple Instructions Guiding You Through Exactly What You Need To Do
Start Building Circuits And Show That You Have The Passion It Takes To Get That Dream Job
Become One Of Those Who Will Build Our Next Technological Break-Throughs
This is an ebook which means you will get instant access to it. When you click on the "Add To Cart" button below you will be taken to a payment processor to complete your purchase.
This Is For You If You Are:
A Beginner – You just want to get started with electronics
A Student – You're tired of all the theory and want to start building cool circuits
An Electronics Enthusiast – You love electronics, but lack the practical experience
An Entrepreneur – You want to be able to build a prototype of that awesome idea you have
A Hobbyist – You have a hobby where you would love to add a bit of electronics
An Artist – You want to add electronics to your art projects
A Retiree – You loved the courses you did back in the days and now you want to freshen up on your knowledge
I wrote this book for you who want simple and clear instructions on what to do to get started.
Click the button below now and get INSTANT access to the eBook:
Price $19.95 Today $14.95
Comments From People Who Have Read The Book:
Price $19.95 Today $14.95
PS! This is a limited offer only.
PPS! Let me know when you have built your first circuit – I love success stories!