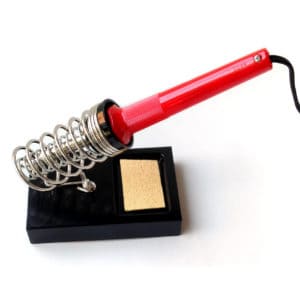 In the basement of my childhood house, I started playing with electronics.
I was lucky, as my father loved tools and had the basement full of them,
But I didn't really need many tools for electronics.
Actually…

If you just want to build some circuits – as cheap as possible – all you really need is a breadboard.
Which I'm not even sure would classify as a "tool".
With a breadboard, you can buy components and breadboard wires and connect a lot of cool and interesting circuits.
In my book Electronics For Kids, almost all the projects are built on a breadboard:
https://www.build-electronic-circuits.com/electronics-for-kids/
But let's say you want to take it one step further – what would you need?
In my opinion, these are the must-have tools:
* Soldering iron (https://amzn.to/2xBqO1p)
* Multimeter (https://amzn.to/2QTUyhY)
* Wire cutters (https://amzn.to/2pt38HM)
Those are the tools I used when starting out.
And it's also what I still use most of the time.
Each of these items can cost less than $10 and works fine for many, many hobby projects.
With these in hand, let's get started!
If you want to learn how to build your own inventions with electronics, you might want to check out Ohmify:
Keep On Soldering!
Oyvind @ build-electronic-circuits.com