This has been a fun year.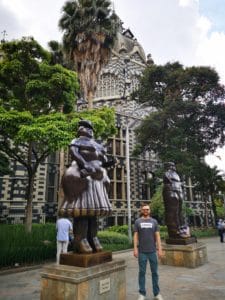 It started out with me taking on a new electronics project.
Which was a bit challenging because I needed to use the new Bluetooth 5 chip nRF52840…
…before it was even officially released!
A very cool experience that pushed my electronics skills further.
I worked a lot with PCB design in KiCad.
Which turned into a few courses at the makerspace Bitraf in Oslo.
And then it turned into a KiCad course on Ohmify.
I did some "9 to 5" in an office for a bit.
But it wasn't for me.
So I escaped to Colombia with my wife.
Where I met some like-minded people, and together we started an Arduino club.
Now we're building a robot.
And we're recruiting more members every week.
If you haven't seen the first video yet, check it out here:
Tonight we're welcoming the new year in Cartagena.
Then let's see what the new year brings!
Happy new year!
And if there's anything I can do to help you reach your electronics goals in 2019, let me know.
(But please be patient as I'm taking this week off and I usually get a lot of emails. So I'll have a lot to catch up on next week.)
If you're considering signing up for the Christmas bundle for learning electronics, today is your last chance.
It includes:
-Access to all Ohmify-courses (Basic electronics, step-by-step projects, and more)
-Getting Started With Electronics eBook
-9 Circuits eBook
-A starter's component kit sent to your doorstep
Get it here:
https://ohmify.com/xmas-bundle/
Keep On Soldering!
Oyvind @ build-electronic-circuits.com