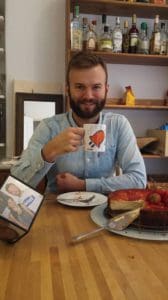 This Christmas my girlfriend gave me a drone!
Even though there were strong winds outside, I decided to try it out. I just couldn't wait.
So, I crashed a lot!
And one motor stopped working :(
But, I'll take it as a challenge.
I will make that drone fly again, even if it means rebuilding all the electronics from scratch.
Anyway, I hope you're having a wonderful holiday, with no broken electronics.
Looking back at 2016, it's been an amazing year:
In April I launched Ohmify, an electronics builder's club to learn to build your own inventions with electronics. Now I even give away free kits to all members: http://ohmify.com/join/
And in July, I published my book Electronics For Kids together with No Starch Press. The book got amazing reviews both on Amazon.com and on places like The Wall Street Journal, The Huffington Post, Geekdad and more. The sales exceeded our expectations, so now we need to print more books. Here's more about the book: https://www.build-electronic-circuits.com/electronics-for-kids
The readership of my blog has almost doubled this year, which means more than 100.000 people are reading my blog every month. That's so many that I can't even comprehend it. Thank you so much for being a reader!
Here are some hand-picked articles from my blog to enjoy while welcoming 2017:
Learn something:
My article about the basic components in electronics has been very popular this year. If you need a refresher, check it out: https://www.build-electronic-circuits.com/basic-electronic-components/
The potentiometer causes confusion all the time. How do you connect it? Why does it have three pins? Get clear here: https://www.build-electronic-circuits.com/potentiometer/
Resistors have colors that tell you their value. No need to memorize them though, just print out this diagram and hang in your workshop: https://www.build-electronic-circuits.com/resistor-color-codes/
Build something:
A lot of people enjoyed the blinking Christmas light circuit. Christmas is almost over, but you can build blinking lights for any party: https://www.build-electronic-circuits.com/blinking-christmas-lights/
The knight rider light bar is another light circuit that is fun to build. How about installing this on your bike? https://www.build-electronic-circuits.com/knight-rider-light-bar-circuit/
Curious about power supplies? Here's a circuit diagram that shows you how to build one of the simplest power supplies you can find: https://www.build-electronic-circuits.com/power-supply-circuit/
Happy New Year!
Oyvind