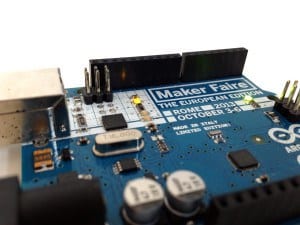 I did some Googling today.
And found that you can add WiFi to your project for only $3.
I'm talking about the ESP8266 module. It's a WiFi module you can connect to an Arduino – or some other microcontroller.
It's usually $5 or more.
But today I checked aliexpress.com and found someone who sold it for only $3!
You can control it by sending commands over the UART interface. The documentation is in Chinese, which can be a challenge for some of us ;) But there are people experimenting with it and translating into English.
I played around with it in Berlin at a workshop a few months ago. It was really cool.
When this little module gets more widely known and properly documented, I think we will see some really cool home projects pop up.
I talked to a guy from Atmel a few months ago – he told me that they were planning on launching something similar this year, that would be able to compete with this chip.
(I am not sure if I was supposed to day that out loud…)
But when this happens.. I can't wait to see what people are gonna make. Maybe I'll make a mini-course around it at some point..
If you're looking to get started building electronics projects – remember that resisting is for resistors – so learn more at
https://www.build-electronic-circuits.com/products/ebook-2nd-edition/
Keep on Soldering!
Oyvind