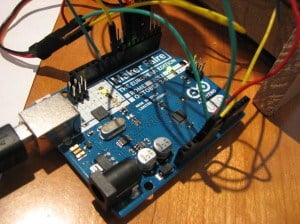 "Taaaaam taam tam taaam tam tam taaaam tam tam taaaaaam."
That's the Star Wars theme… in case you didn't recognize it.
It's one of the melodies that one student of mine played on the circuit he built in a workshop I held a few weeks ago.
He used a piezo element to make the sound.
And by turning a pin on and off with different speeds, he was able to create melodies.
It sounds a bit hard.
But by using an Arduino, it's actually pretty easy.
In my new online course, Build Your Own Electronic Gadgets, I will show you exactly how to do this.
Yesterday, I uploaded a video to the course page, that shows some examples of what you will learn to build. In the video, you can also see the "Star Wars" circuits.
Here is the page with video and information about the course:
Keep on Soldering!
Oyvind