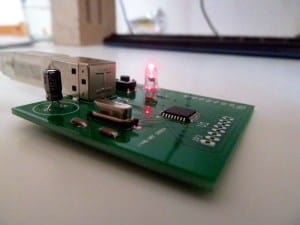 There are many ways to build one.
And it's very fun.
Recently, I have been playing around with building one using a microcontroller.
By using analog inputs, I can read the position of some potentiometers. And I can use this position to manipulate the sound coming out.
For example, I used one potentiometer to set the output tone.
And one to adjust a tiny delay between each time the tone was played.
You don't really need much code to get it working.
It was really cool to play around with.
I also taught this to a group of people who was doing a live workshop I did in Berlin a couple of weeks ago.
I have played around with this lately and made some really interesting sounds.
It's very addictive.
This circuit with detailed explanations and building plans will be included in my new online course that I will launch next week.
More on that later.
Keep on Soldering!
Oyvind
PS! I have written an ebook that shows you how to get started building circuits like sirens and blinking lights. Here's some more info:
https://www.build-electronic-circuits.com/products/ebook-2nd-edition/