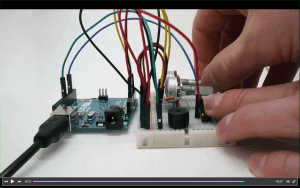 When I saw the ad I just knew I had to apply…
This was back when I was studying at the University of Oslo.
I found an ad for a job as a Python teacher.
Python is a programming language. And I loved programming! So I really wanted the job.
There was only one problem:
I didn't know Python at all. I had never used it.
But that wasn't going to stop me, so I wrote an application.
In the application I told them how much I loved programming.
I also told them that I didn't know Python.
But then I wrote that if I get the job, I will guarantee that I'll learn Python well enough to teach it before the classes start.
Then I waited…
A couple of days later I got a reply:
"We'll hire you on the condition that you learn Python before the classes start."
Yeeeeeeees! I was so happy.
And right away I started studying Python.
By the time the classes started I was pretty good at Python and I could teach it pretty well.
The moral of the story: If you see a job that you really want, but you're not sure if you're qualified — don't let it stop you.
This was a bit off-topic when it comes to electronics. But I get a lot of emails from people asking me what's the best way to get hired, so I wanted to share this story.
If you want a job in electronics, show that you love electronics.
And if you build things in your spare time, that is a good indicator for the employer that you love electronics.
If you haven't built much yet, but want to get started – then my eBook 9 Circuits is a great place to start. You'll get to build 9 different circuits of increasing difficulty. Find out more here:
https://ohmify.com/get9circuits/
Keep On Soldering!
Oyvind