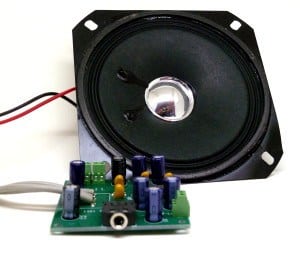 I was sitting in the lab.
There were other people there.
Nobody said anything, but I could sense they were starting to get really annoyed with me.
About every 20 seconds I made some squeaky strange sounds with my little circuit.
But it was so fun!
And I just couldn't help but play around with it to see what kind of sounds I could make.

Just a few minutes before, I had completed building one of the new circuits that I used in the 2nd edition of my eBook "Getting Started With Electronics".
It made sounds similar to an old Atari computer.
And by adjusting the knobs, I could manipulate the sounds, generate cool effects, and make music.
At least it sounded like sweet music in my ears.
But I'm not sure the other guys in the lab agreed.
This little music-generating device can be built using two 555 timers with a few extra components.
I explain how in my eBook "Getting Started With Electronics". You can get that here:
https://www.build-electronic-circuits.com/products/ebook-2nd-edition
And if you think it's a hassle to find the necessary components, then don't worry about that anymore. I put together a kit with all the components necessary to build all the circuits in the kit:
https://www.build-electronic-circuits.com/components-and-tools/
Keep on Soldering!
Oyvind