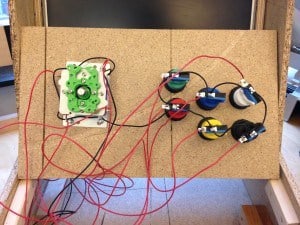 It's not as hard as it seems.
Last month, I built one.
Or…
I was going to build one. Then we got an intern, Marvin, at the lab where I sometimes hang out.
After a day of us building together, I saw that he could handle it on his own.
So he pretty much took over.
To build an arcade machine, you can use a Raspberry Pi.
A Raspberry Pi is a mini computer of the size of a credit card – and it only costs $35.
We only had to install some software on it, connect a joystick + buttons, and connect a display.
The hardest part was actually building the casing to make it look cool.
I will make a tutorial of it later.
But I definitely recommend you check out Raspberry Pi. Just google it and you'll find a lot of cool projects based on it.
I didn't write about Raspberry Pi in my eBook «Getting Started With Electronics». But having a good foundation in the basics of electronics definitely makes these types of projects much easier.
So if you are just starting out, then you should check it out:
https://www.build-electronic-circuits.com/products/ebook-2nd-edition/
Keep on Soldering!
Oyvind