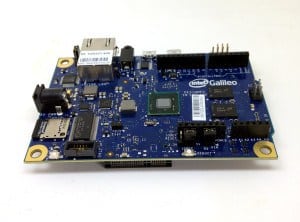 Most of us don't have a lot of smart things in our house even if we would like to.
So why not convert your things into smart things on your own?

By using an Intel Galileo (or Raspberry Pi) with some cheap components you can turn a standard washing machine into a smart washing machine that will notify you when it's done washing your clothes.
OBJECTIVE:
The objective is to build an add-on to a standard washing machine so that it will send you a message on your phone through Whatsapp when it's done washing your clothes.
HOW TO DO IT:
The first challenge is to get a signal from the washing machine to the Intel Galileo that the washing cycle is over.
You can do this in many ways.
One way is to find the LED that indicates that the washing cycle is over, and replace this with some other components, as explained in this tutorial:
http://blogs.fsfe.org/clemens/2011/08/05/the-arduino-enabled-washing-machine/
But if you don't want to do any soldering on your washing machine, another solution is to add a light sensor over this LED to detect when it turns on.
Here's a tutorial that shows how to connect a photoresistor to an Arduino, and this could easily be transferred to an Intel Galileo:
http://playground.arduino.cc/Learning/PhotoResistor
If you have one of those washing machines without any LEDs, but with a knob that pops out when it's done, you could create a mechanical switch that breaks the circuit when the knob pops out.
Use some aluminum foil and a wire for example.
Next, you need to get Whatsapp up and running on your Galileo.
I've written a tutorial on how to do that here:
https://www.build-electronic-circuits.com/whatsapp-on-intel-galileo/
Then at last, you need to edit the examples from the yowsup library to send you a text message once it detects that the washing cycle is done.
To do such a project, you don't need to be an expert. But it helps if you have some of the basics down.
"Getting Started With Electronics" is an eBook I wrote to help you learn electronics from scratch, so you can start building cool projects. Learn more about it here:
https://www.build-electronic-circuits.com/products/ebook-2nd-edition
Keep On Soldering!
Oyvind