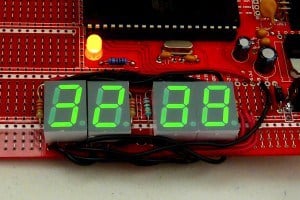 This was a few years ago.
At that time, I hadn't built many analog circuits.
But I'd built many digital circuits, and I knew a lot of theory on how analog circuits worked.
I wanted to build a simple indicator that would tell me when my plants needed water.

Because I never remembered to water them.
Some friends suggested that I should film myself building this prototype…
…and post it online so that others could see how an unexperienced DIY hobby design can come to life.
You can find the video here:
https://www.build-electronic-circuits.com/prototype-circuit-board/
It's absolutely not a perfect process.
But it is what it is.
And maybe you'll find it interesting.
Especially if you're just starting out and you're curious how a prototype can be built.
This was a simple design, but I still struggled a lot because of lack of experience designing analog circuits.
If you're a beginner with little to no experience, I highly recommend my eBook "Getting Started With Electronics":
https://www.build-electronic-circuits.com/products/ebook-2nd-edition
In the eBook I show you the theory you need to know from the start. And I skip what you don't need to know.
And you'll get lots of practice building fun circuits, like an electronic musical instrument, alarm circuit and more…
Keep On Soldering!
Oyvind