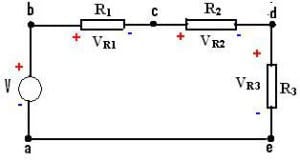 "What goes up must come down"
and
"What goes in must come out"

These rules describe two fundamentals laws of electronics in a way that is simple and easy-to-remember.
It was Dave, one of my readers, who wrote me this simple way of remembering Kirchoff's laws of voltage and current.
"What goes up must come down"
In a circuit with a 5 volt source, the 5 volts are divided over the components in that circuit. You never have any "spare voltage".
"What goes in must come out"
If you have 3 milliampere (mA) going into a component, then you have 3 mA coming out of it too. If you have 5 mA going into several branches, when the branches connect again, the total current from the branches equals the 5 mA that went into them.
Thanks for this tip Dave.
Don't fall into the trap of only reading about electronics. To become good, you need to build electronics. I started my website to inspire you to build electronics. I wrote my ebook as a practical step-by-step approach to get started. Learn more here:
https://www.build-electronic-circuits.com/products/ebook-2nd-edition/
Keep on Soldering!
Oyvind