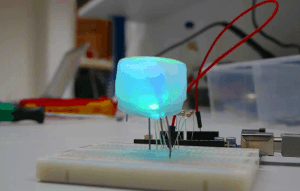 He was on his sleigh.
Above his head was a bright star.
I saw this when going on a morning walk early this morning.
It wasn't the real Santa though.

…it was the Christmas decorations made with lamps on a house nearby.
But it looked pretty impressive!
And it made me want to build something with electronics.
Thursday, I launched my new course Build Your First Robot:
https://learn.ohmify.com/p/build-your-first-robot
It's a course where you'll first learn to build circuits to sense light, to control motors and more.
You'll learn how and why each part works as it does.
This way, you'll understand how the robot work from bottom up, so that you'll be able to design your own robot.
Then you'll get step-by-step instructions on how to build a cool light-seeking robot.
I've taken great care to explain everything in simple ways, so that anyone who wants to build the robot will be able to.
Even if you have no experience from before.
This course, I thought, could be a fun project to undertake for you during Christmas time.
Either as a project you work on when you need some alone time.
…or a project you do with someone, maybe a relative, that would love to build a robot.
Check out the details here:
https://learn.ohmify.com/p/build-your-first-robot
To reward the action takers, you'll get it for a 40% discount if you get it before Sunday night.
Keep on Soldering!
Oyvind
PS! The price goes up on Sunday night, so make sure you take action today. It's such a fun project =) Here's the link again: https://learn.ohmify.com/p/build-your-first-robot