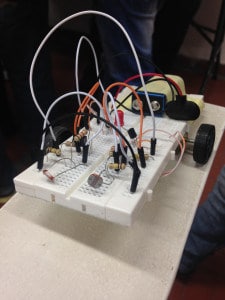 Together with a shoemaker and an engineer, I'm building a robot.
At the makerspace Göra in Medellin, Colombia we started an Arduino club.
And we're building a sumo robot.
Robot-sumo is a sport where two robots attempt to push each other out of a circle.
Just like sumo-wrestling.
We're going to use Arduino as the "brain" of the robot.
By using different sensors like ultrasonic and infrared, the robot will see where the opponent is and try to push it off the circle.
And we're going to control it with a mobile phone.
While building this robot over the next weeks, we hope to attract more people who are interested in this.
So if you're in the area, you should definitely join in.
I'll make videos, take photos and write about how to build this robot…
…and share it with you as we go along.
If you're a member of Ohmify, you already have access to the course Build Your First Robot.
It's a course on how to build a simple light-following robot.
And it's a good first step to get into robot-building. That robot can later be upgraded to become a sumo robot.
If you're not a member yet, you can sign up with the following link and get access to Build Your First Robot and 14 more courses:
https://ohmify.com/join/
Keep On Soldering!
Oyvind @ build-electronic-circuits.com