One year ago, this happened:
…I got a book contract!
With a really cool publisher, No Starch Press.
The title is "Electronics For Kids", and here is the front cover: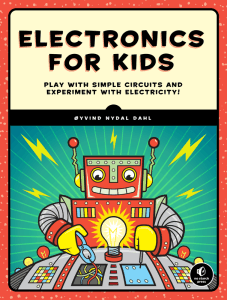 I've spent a year developing it together with a great team of people from No Starch Press who have released several technical books from before.
The target audience is complete beginners who want to learn to build things with electronics.
And it is aimed towards kids from 8 years and up.
…but I would say that any "kid" — 8 years old or 100 years old — would take great pleasure in the book.
I'm doing the finishing touches now, then the book goes to the printer in a few weeks.
I'll try and arrange for a discount code for you, as a thanks for being a loyal reader.
Keep on Soldering!
Oyvind
PS! Do you want to build a robot? My online course "Build Your First Robot" is available here: https://learn.ohmify.com/p/build-your-first-robot