This happened yesterday: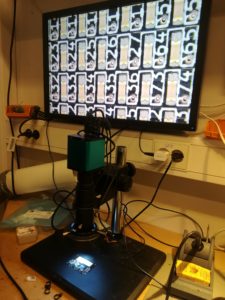 My friend Elias and I built a new circuit.
It's a little gadget with 90 LEDs that form a display.
You can connect it through USB to program the display to do fun things.
We've built one before, but this was a new version with a new microcontroller.
Now we had soldered the circuit.
And we wanted to test it.
Elias plugged it into his computer and…
…nothing!
We checked a few possible mistakes, but all seemed good.
Then started the blaming phase.
It couldn't be US who made a mistake, right?
It must be a damaged chip.
Or maybe the PCB was not manufactured well?
Or maybe DigiKey had mislabeled some components?
When this phase hits, it's usually time to go home.
I went home.
Elias went to the gym.
Later I got the message:
"We didn't solder pin 36 of the chip properly!"
Elias fixed it and the circuit worked perfectly.
Sometimes it's just time to go home or do something else.
Remember that the next time you're stuck ;)
Keep On Soldering!
Oyvind @ build-electronic-circuits.com
PS! It also helps to have someone to ask. Join our electronics builder community Ohmify and you'll always have someone to ask. Learn more:
https://ohmify.com/join/