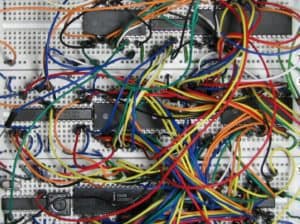 "Argh!"
It doesn't work!
I had been sitting at Bitraf for two days.
Bitraf is a makerspace/hackerspace in Oslo.
It has several desks where people can sit and work on their project.
And there are lots of tools for working with wood, metal, electronics, and more.
The circuit I built for the next course on Ohmify didn't work.
I had just soldered it up.
And now I was programming it.
But suddenly it didn't work anymore.
I hate it when that happens.
Luckily, Bitraf is full of cool and smart people that I could talk to.
So I asked around.
"I did this and this. But suddenly it stopped working. Do you have any suggestions?"
And I got lots of good suggestions that kept me going.
In the end, I found and fixed the problem myself.
But if it hadn't been for all the suggestions I got¨along the way – from Elias, Jon, Jensa, Martin and more – it would probably have taken me much longer to find the problem.
That's what I love about being at such a place.
It doesn't matter if the others don't know the problem.
Getting some fresh eyes on a problem usually gives you new ideas…
…ideas that eventually results in fixing the problem.
I built Ohmify to not only help you learn electronics from scratch – but also give you a place to ask questions when you are stuck on your own projects.
If you think that might be interesting, check out this page:
Keep On Soldering!
Oyvind @ build-electronic-circuits.com
PS! I'm writing the last lesson of the newest Ohmify course as we speak. I *hope* to have it published by Friday. Fingers crossed.