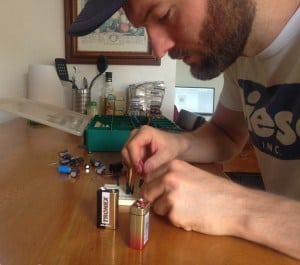 I'd been working on this circuit ALL day.
Then I plugged it in, and it didn't work…
"Why is it not working??!!"
"It must be a faulty chip", I told myself.
"I should go down to the electronics shop and complain."

But I decided to take a break first.
After the break I thought:
"Hmmm… maybe I should recheck my connections?"
"I always tell my student to triple-check their connections"
So I did.
And well, it turned out I was using one of those breadboards that has the power supply columns split into two halves. So I lacked a connection between the two.
The moral of the story? Triple check your connections ;)
Keep On Soldering!
Oyvind
PS! Last week I launched Ohmify. It's now closed for new members, but I'll let you know when I open for more members in the future.
PPS! If you want to get started building electronics projects, I recommend checking out my eBook Getting Started With Electronics: https://www.build-electronic-circuits.com/products/ebook-2nd-edition